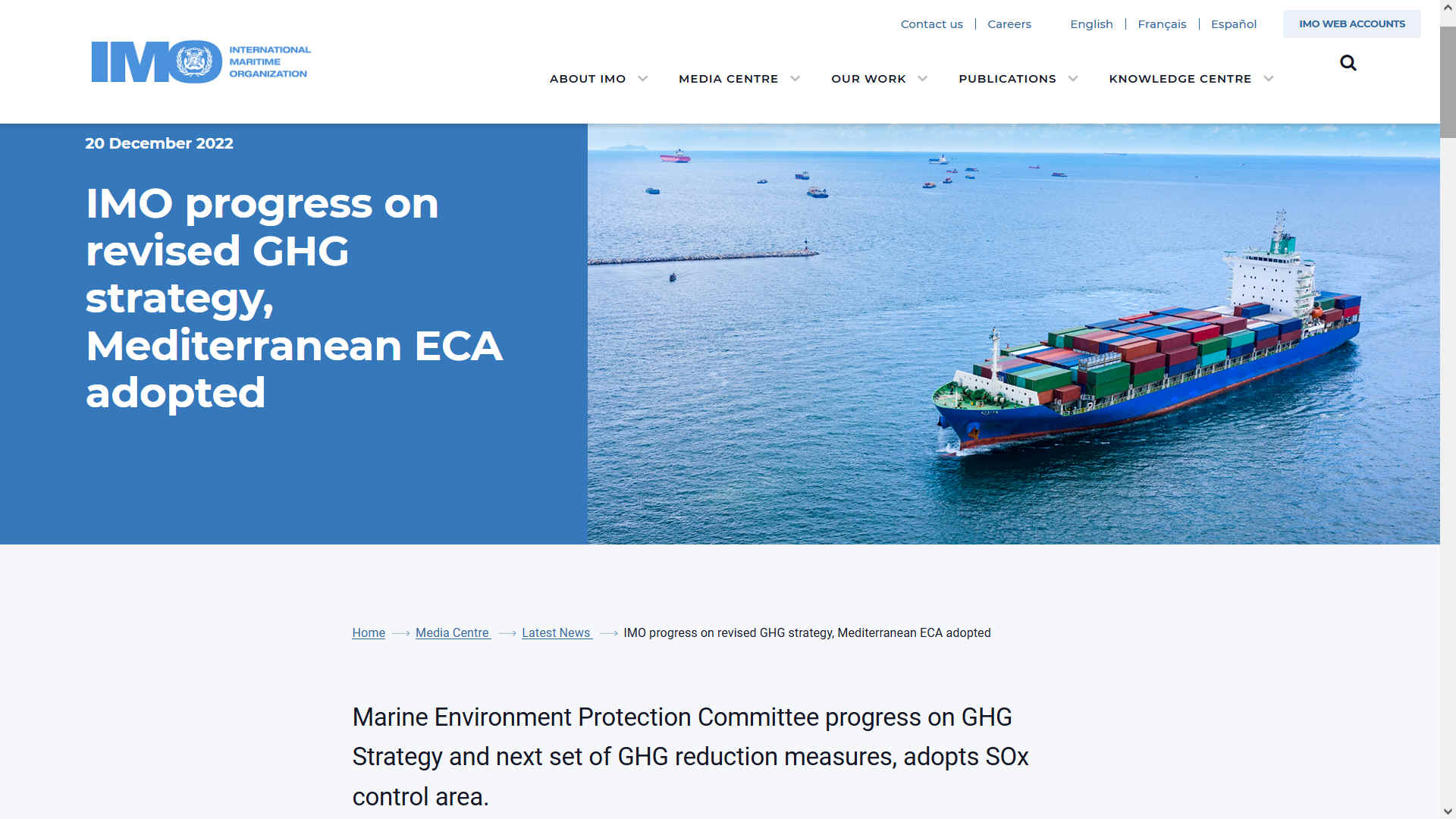 The IMO has finally got into gear concerning atmospheric pollution from ship exhausts, but what about marine pollution?
What about the rivers of plastic flowing into the oceans every day? What about the dumping of ghost fishing nets, and bottom trawling, or is that a problem for some other organization - or a confused mix of policing? We have not heard of any operations, or prosecutions.
For example, Ocean Shepherd and Greenpeace have shadowed fishing vessels with suspected illegal catches, getting themselves into trouble, for trying to do what the IMO (or another branch of the UN) should be doing.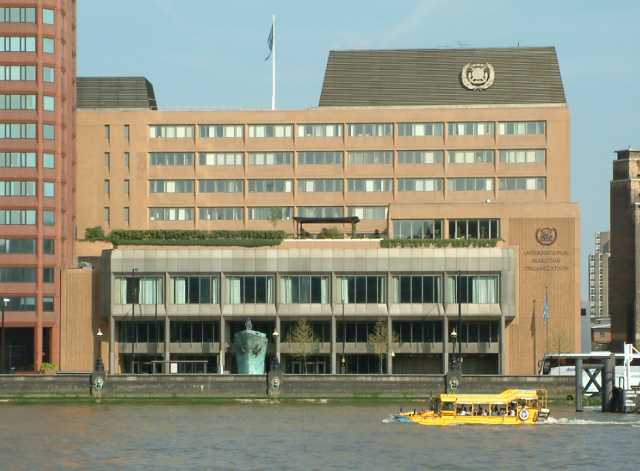 The IMO's headquarters in London on the banks of the river Thames.
However the targets may seem like action - and they are inasmuch as wishful thinking, in fact there is no strategy to implement, just a set of targets without any guidance as to how to achieve the published goals. Leaving the industry to find solutions themselves.
For this reason most fleet operators believe that they will be using modified internal combustion engines in their ships well past 2050, unless something drastic is imposed. Some have suggested an outright ban may be the only answer. Perhaps with ship confiscation as the penalty for rogue operators.
And what of aberrant navies, like Brazil, sinking an asbestos laden aircraft carrier in the Atlantic. Should not these offenders be prosecuted for crimes against nature. How can it be illegal to dump waste overboard, but legal to dump the waste onboard, provided the whole ship goes with it? It seems to us that in such circumstances, sinking a vessel, amounts to dumping the waste overboard.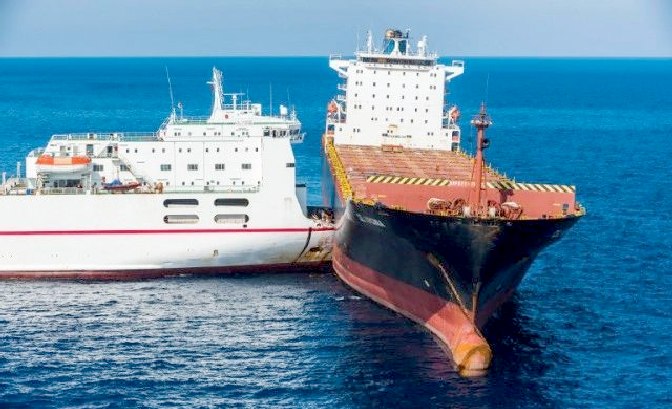 How did this happen? The answer is that they did not have autonomous navigation aids onboard. They relied on humans. If the Collision Prevention at Sea Regulations were correctly applied, this should never happen. It may be that autonomous ships will reduce accidents on our oceans.
​International Maritime Organization
4, Albert Embankment
London
SE1 7SR
United Kingdom

Tel: +44 (0)20 7735 7611
Fax: +44 (0)20 7587 3210
Email: info@imo.org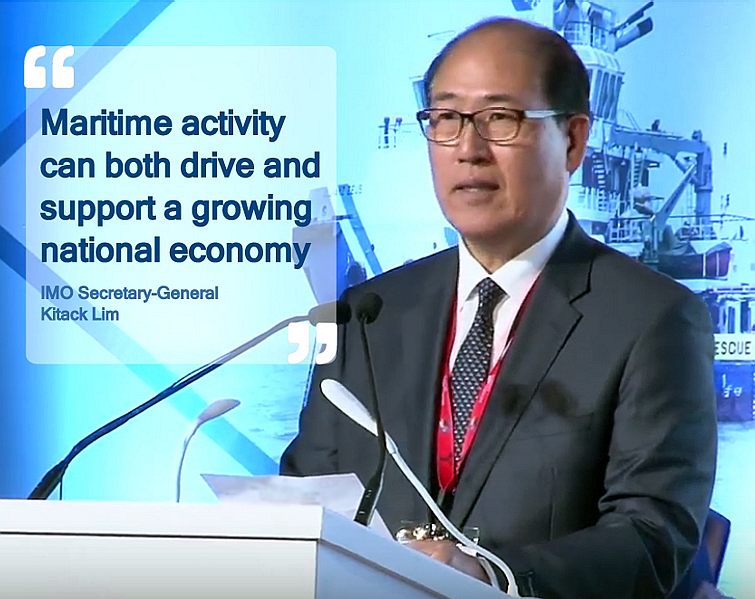 IMO Secretry General - Kitack Lim
DECEMBER 2022 - PROGRESS ON REVISED GHG STRATEGY MEDITERRANEAN ECA ADOPTED

Marine Environment Protection Committee progress on GHG Strategy and next set of GHG reduction measures, adopts SOx control area.

The Marine Environment Protection Committee (MEPC 79) of the International Maritime organization (IMO) has made progress towards revising the Initial IMO GHG Strategy, working towards adopting a strengthened revised Strategy in mid-2023 at MEPC 80.

"I note and welcome the progress made on these matters. It cannot be stressed enough how crucial it is that we keep the momentum and deliver an ambitious and fair, revised IMO GHG Strategy at MEPC 80 next year," said IMO Secretary-General Kitack Lim, at the close of the MEPC 79 session, which met 12-16 December at IMO Headquarters in London.

"We cannot take our foot off the accelerator, at this moment in time, the cooperation and dialogue that is the trademark of IMO, and not least this Committee, will be more important than ever in delivering on what is expected of us to address climate change, but also biodiversity loss and marine pollution," said Mr. Lim.

The work on revising the IMO GHG Strategy took place in an intersessional group, (ISWG-GHG 13), which met 5-9 December 2022, and in the Working Group on Reduction of GHG Emissions from Ships, which met during the MEPC 79 session.

The Committee reaffirmed its commitment to: adopt a revised IMO GHG Strategy, in all its elements including with a strengthened level of ambition by MEPC 80; continue its work on identifying the candidate GHG reduction measures to be developed in priority as part of a basket of measures consisting of both technical and economic elements by MEPC 80 in accordance with the Work plan; and undertake a comprehensive impact assessment of the basket of candidate measures ahead of their adoption in accordance with the Work plan and the revised Procedure for assessing impacts on States.

MEPC 80 (3-7 July 2023) is expected to adopt the revised IMO Strategy for Reduction of GHG Emissions from Ships.

REVISED RESOLUTIONS ON VOLUNTARY COOPERATION WITH PORTS AND NATIONAL ACTION PLANS

The MEPC adopted revised resolutions on voluntary cooperation with ports and on national action plans to reduce GHG emissions from shipping. The amendments (to resolution MEPC.323(74) and resolution MEPC.327(75)) include references to facilitating voluntary cooperation through the whole value chain to create favourable conditions to reduce GHG emissions from ships, including through cooperation with ports, shipping routes and maritime hubs.

The revised resolutions are:

- Invitation to Member States to encourage voluntary cooperation between the port and the shipping sectors to contribute to reducing GHG emissions from ships.

- Encouragement of Member States to develop and submit voluntary National Action Plans (NAPs) to address GHG emissions from ships.

MEDITERRANEAN SEA EMISSION CONTROL AREA FOR SULPHUR OXIDES AND PARTICULATE MATTER

The MEPC session adopted amendments to designate the Mediterranean Sea, as a whole, as an Emission Control Area for Sulphur Oxides and Particulate Matter, under MARPOL Annex VI. In such an Emission Control Area, the limit for sulphur in fuel oil used on board ships is 0.10% mass by mass (m/m), while outside these areas the limit is 0.50% m/m. The amendment is expected to enter into force on 1 May 2024, with the new limit taking effect from 1 May 2025.

This move will ensure cleaner air for populations in the Mediterranean Sea area.

This is the fifth designated Emission Control Area for Sulphur Oxides and Particulate Matter worldwide, the others being: the Baltic Sea area; the North Sea area; the North American area (covering designated coastal areas off the United States and Canada); and the United States Caribbean Sea area (around Puerto Rico and the United States Virgin Islands).

MANDATORY GARBAGE RECORD BOOKS FOR SMALLER SHIPS

The MEPC adopted amendments to MARPOL Annex V to make the Garbage Record Book mandatory also for ships of 100 gross tonnage and above and less than 400 gross tonnage. This extends the requirement for mandatory garbage record books to smaller ships, which will be required to keep records of their garbage handling operations, namely discharges to a reception facility ashore or to other ships, garbage incineration, permitted discharges of garbage into the sea, and accidental or other exceptional discharged or loss of garbage into the sea.

The move supports implementation of IMO's Strategy and Action Plan to address marine plastic litter from ships.

PROTECTING SEAS IN THE ARCTIC - REGIONAL ARRANGEMENTS FOR PORT RECEPTION FACILITIES

The MEPC adopted amendments to the MARPOL annexes to allow States with ports in the Arctic region to enter into regional arrangements for port reception facilities. The amendments relate to MARPOL Annexes I (oil), II (noxious liquid substances), IV (sewage), V (garbage) and VI (air pollution). The amendments are expected to enter into force on 1 May 2024. Related amendments to the 2012 Guidelines for the development of a regional reception facility plan (resolution MEPC.221(63)) were also agreed.

EEXI, CII AND RATING VALUES

The MEPC adopted amendments to appendix IX of MARPOL Annex VI on the reporting of mandatory values related to the implementation of the IMO short-term GHG reduction measure, including attained EEXI, CII and rating values to the IMO Ship Fuel Oil Consumption Database (IMO DCS).

FUEL FLASHPOINT IN BINKER DELIVERY NOTE

The MEPC adopted amendments to appendix V of MARPOL Annex VI, to include flashpoint of fuel oil or a statement that the flashpoint has been measured at or above 70șC as mandatory information in the bunker delivery note (BDN). The amendments are expected to enter into force on 1 May 2024.

PARTICULARLY SENSITIVE SEA AREA (PSSA) IN THE NORTH-WEST MEDITERRANEAN SEA

The MEPC agreed in principle to the designation of the Particularly Sensitive Sea Area (PSSA) in the North-West Mediterranean Sea, which will be an important contribution to protecting cetaceans in these waters.

BALLAST WATER MANAGEMENT (BWM) CONVENTION

The MEPC approved draft amendments to appendix II of the Annex to the Ballast Water Management (BWM) Convention, related to the Form of the Ballast Water Record Book.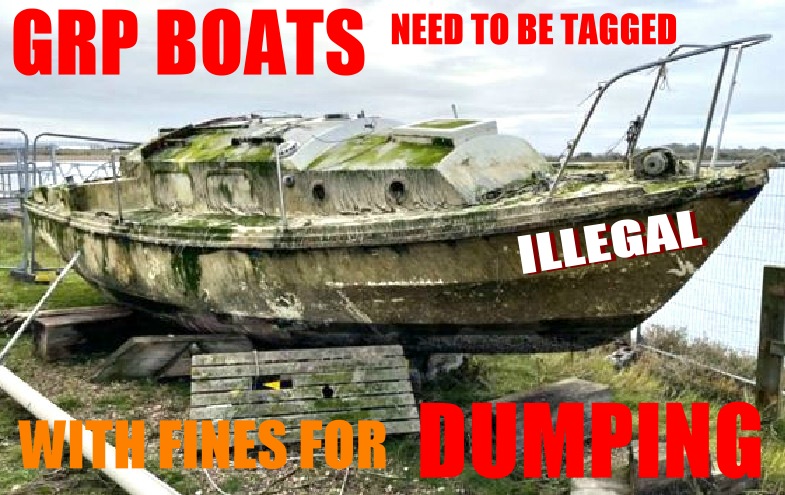 DISPOSABLE - If they have the money to buy a boat or yacht, they have the disposable cash to responsibly recycle or dispose of the toxic waste that glassfibre boats represent. Boats that are dumped illegally break up into microscopic glass strands and plastics, that shellfish and other seafood ingest, working its way up the food chain to humans. So, look at the yachting and boating fraternity with new eyes. Are they registered with a recognised "end-of-life" scrappage scheme. Does your Government care at all? If not, elect someone who actually gives a damn. Marinas loaded with gleaming GRP boats, represents death to the ocean, unless properly regulated. Though, boating is a healthy pastime that should be encouraged, and most pleasure craft owners, would want to do the right thing, once, the dangers of fibreglass is explained. The marine leisure market is good for the economy. Whereas, commercial fishing craft and fishermen, need to know all about GRP when deciding on their next boat. Will it be plastic free?