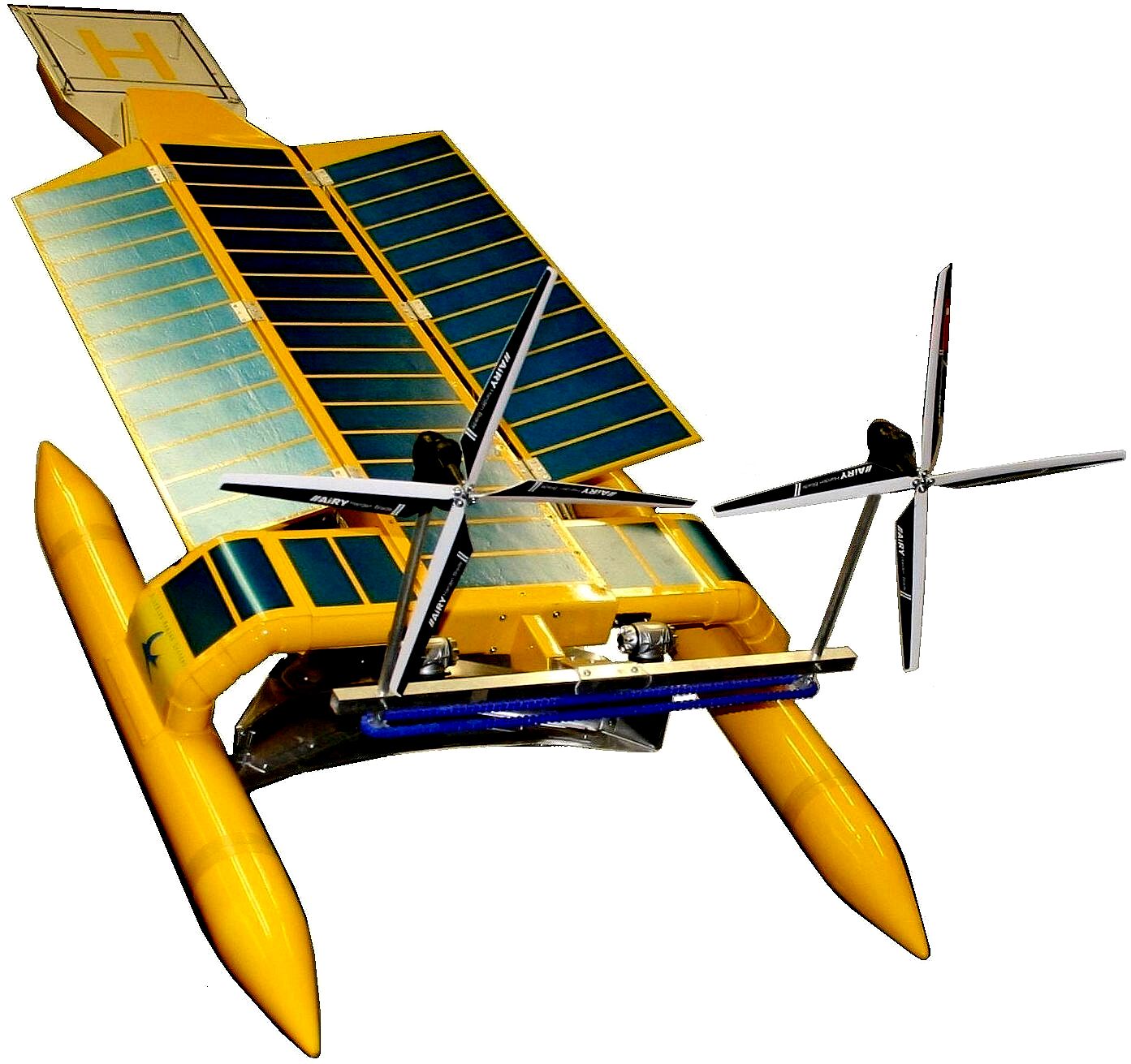 SEAVAX 2015-2020 - A largely crowd funded project (plus volunteers) to produce an ocean cleaning machine, resulted in proofs of concept of the ocean going trimaran seen above and the launch and recovery service machines called Amphimax - in 1:20 scale. The project was cancelled after five years with mounting losses from three costly Horizon 2020 applications, one MarRI application, one Heritage Lottery application, with the UK's Charity Commission, rather oddly, refusing to register the social enterprise as charitable, which tended to mar any application for funding, alongside Brexit complications, where such applications are only entertained from registered charities. The Commission's decision was puzzling where so many other UK ocen plastic charities exist. For this project they invited a Judicial Review, being untenable of course. Who asks a fledgling not for profit to entertain litigation, where costs can be staggering. The conclusion was that competing interests (discrimination) somehow came into play. This is an example of institutional resistance, and perhaps cronyism, which we say has no place in ocean sustainability.
The concept may find other takers with deeper pockets willing to develop the equivalent, possibly partly inspired by the efforts of Bluebird Marine Systems and other projects aiming to clean up marine litter. SeaVax is the only vessel we know of that was designed to deal with ghost fishing nets and micro plastics in autonomous fleets. The RiverVax was smaller, but similar in concept. It is a great shame the vision was not put to the test, while the project had the environmental gladiators willing to take up the chalice. Today, fleet operations could be even more convenient using green hydrogen based fuels such as methanol.
IOC-UNESCO is working closely with the Government of France to coordinate the scientific programme for the Summit and ensure it addresses the major challenges and emerging knowledge trends when it comes to unlocking ocean solutions for sustainable development.

Combining global scientific and education expertise, UNESCO and its IOC also contributed to mainstreaming ocean literacy into the summit programme, with a dedicated workshop to take stock of the development of ocean literacy communities across the world.

On 9 and 10 February, more than thirty events (workshops, forums, roundtables and other initiatives) will be held ahead of a high-level segment, to engage the international maritime community. UNESCO is organising two thematic workshops on 10 February: "The Science we Need for the Ocean we Want" and "Educate to the Sea, Ocean for Youth" to advance ocean science knowledge and support the conservation and sustainable management of the ocean.

On 11 February, President Emmanuel Macron will bring together Heads of State and Government, leaders of multilateral institutions, business leaders and civil society policymakers to make ambitious commitments in the Summit's high level segment.

Several important initiatives will be launched on this occasion in favour of marine ecosystem protection and sustainable fisheries, intended to fight pollution, in particular from plastics, respond to the impacts of climate change, as well as advocate for improved governance of the oceans.

All events scheduled during the three days of the One Ocean Summit will take place at Ateliers des Capucins and will be live-streamed.
Several other events open to the public will be held in a number of sites in the city of Brest.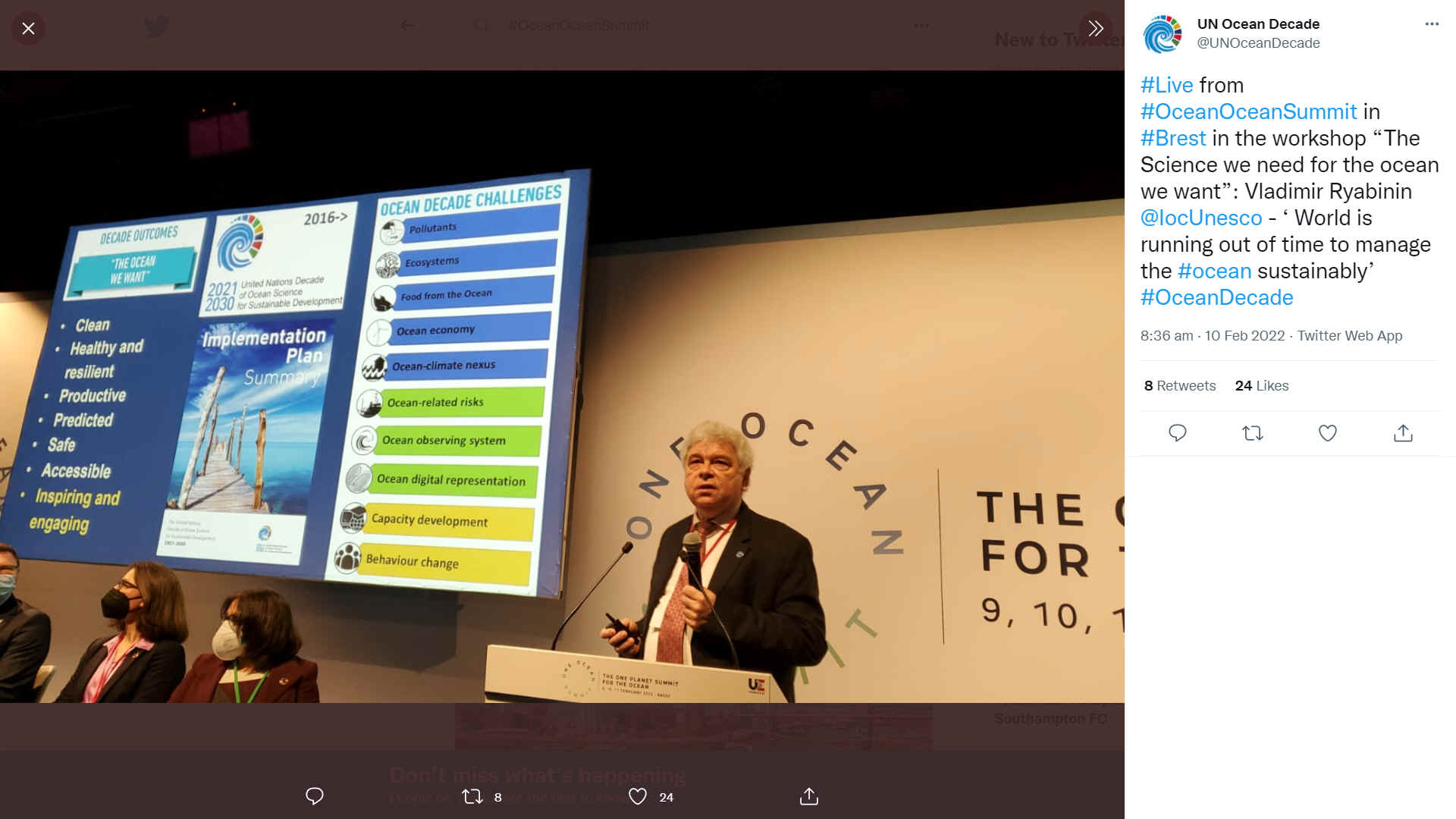 VLADIMIR RYABIN - "The Science we need for the ocean we want": Vladimir Ryabinin@IocUnesco - ' World is running out of time to manage the #ocean sustainably' #OceanDecade
See below the curated list of key events during the summit:
8 February

(02:00- 05:00 PM) - https://bit.ly/35Ke1xs

OceanOPS, joint centre of the World Meteorological Organization and the IOC-UNESCO, will launch the Odyssey project endorsed by the United Nations Decade of Ocean Science for Sustainable Development in support of the Global Ocean Observing System (GOOS)

9 February

(11:00 AM – 12:30 PM) - One Ocean Science: a review of ocean science in the form of a world tour

(02:00 PM - 05:30 PM) - The Ocean: one cultural heritage

This major international meeting will discuss the current and future challenges of maritime cultural heritage.

10 February

(09:00 – 10:30 AM) Workshop - The Science we need for the ocean we want

The workshop will explore the importance of ocean science and illustrate key knowledge gaps in ocean science and how to address them.

(04:00 – 05:30 PM) Workshop - Educate to the sea, Ocean for youth

*All times in CET


This Ocean Education Workshop will present the many dimensions and key stakeholders of ocean literacy and related education today, discuss challenges and seek opportunities for progress, and announce new initiatives

For more information on the summit programme, please visit http://oneoceansummit.fr/en/

During the One Ocean Summit, the organizers will be issuing exciting news about new partnerships and actions:

- Endorsement of the new Ocean Decade Action - Polar POD
- Launch of the Generation Ocean Campaign - #GenOcean, the official campaign of the Ocean Decade